Books Like Harry Potter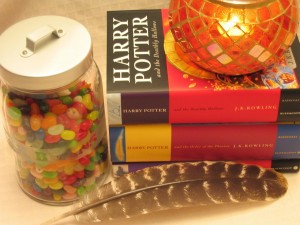 Harry Potter was ad still is a phenomena. No other book ever managed to draw so many young people in, creating a whole new generation of inspired and avid readers. Thus, J.K. Rowling didn't only create a whole, magical, wizarding world, but also the best gateway drug to reading that parents, teachers, children and young adults could have hoped for.
Due to the series coming to an end, the ALA (American Library Association) voiced the fear that the interest in reading in teenagers could be declining again. To keep younger readers interested and hooked to the magic of the written word, they published a list of "Harry Potter-like" reads that is still relevant today.
No matter if you want to pitch one of the books to a young reader to keep them enticed or whether you are looking for a good read yourself that lets you feel the magic you experienced with Harry Potter again, these books will surely serve the purpose.
Books like Harry Potter
This list contains books that do not only share certain (magical) elements with the Harry Potter series, but that also share a similar, easy-to read tone and flavor. For books that are more complex to read, check out the second list.
Title (Series)
Author
Year
The Amulet of Samarkand
(The Bartimaeus Trilogy)
Stroud, Jonathan
2003
The Anybodies
Bode, N.E.
2004
Artemis Fowl
(Artemis Fowl)
Colfer, Eoin
2001
The Bad Beginnings
(A Series Of Unfortunate Events)
Snicket, Lemony
1999
The Book Of Three
(Chronicles of Prydain)
Alexander, Lloyd
1964
Charlie Bone
Nimmo, Jenny
2003
The Dark Is Rising
(Dark Is Rising Sequence)
Cooper, Susan
1973
Dealing With Dragons
(Enchanted Forest Chronicles)
Wrede, Patricia
1990
The Field Guide
(Spiderwick Chronicles)
Black, Holly
2003
The Folk Keeper
Billingsly, Franny
2001
Inkheart
Funke, Cornelia
2003
Jeremy Thatcher, Dragon Hatcher
(Magic Shop Books)
Coville, Bruce
1991
Leven Thumps and the Gateway to Foo
Skye, Obert
2005
Mister Monday
(Keys to the Kingdom)
Nix, Garth
2005
Otto and the Flying Twins:
The First Book of the Karmidee
Haptie, Charlotte
2003
The Secret Platform 13
Ibbotson, Eva
1998
Septimius Heap
Book One: Magyk
Sage, Angie
2005
So You Want to be a Wizard
(Young Wizard Series)
Duane, Diana
1983
The Witch Twins
Griffin, Adele
2001
Witch Week
(Chrestomanci Books)
Jones, Diana Wynne
1982
The Wizard of Oz
Baum, Frank L.
1996
Wizard's Hall
Yolen, Jane
1991
More Great Fantasy Books For Harry Potter Lovers
These books share themes of the Harry Potter series or similar story elements, but present a more elaborate read. They are more complex to read and thus are more directed to the now grown up Harry Potter audience.
Title (Series)
Author
Year
A Plague of Sorcerers
Zambreno, Mary Frances
1991
A Wizard of Earthsea
LeGuin, Ursula
1991
A Wrinkle in Time
L'Engle, Madelaine
1987
Airborn
Oppel, Kenneth
2004
The Chronicles of Narnia
Lewis, C.S.
1998
The Changeover:
A Supernatural Romance
Mahy, Margaret
1994
Dragonsinger
(Harper Hall Trilogy)
McCaffrey, Anne
1977
Ella Enchanted
Levine, Gail
1997
Eragon
(Eragon Series)
Paolini, Christopher
2003
Five Children and It
Nesbit, E.
1996
The Golden Compass
(His Dark Materials)
Pullman, Philip
1996
Gregor the Overlander
(Underland Chronicles)
Collins, Suzanne
2003
Half Magic
Eager, Edgar
2004
The Hero and the Crown
McKinley, Robin
1984
The Hobbit
Tolkien, J.R.R.
2001
The Lost Years of Merlin
(Lost Years of Merlin)
Barron, T.A.
1996
Midnight Magic
Avi
1999
The Neverending Story
Ende, Michael
1997
The Oracle Betrayed
(Oracle Prophecies)
Fisher, Catherine
2004
Ranger's Apprentice:
The Ruins of Gorlan
Flanagan, John
2005
Sabriel
(Abhorsen Trilogy)
Nix, Garth
1995
Same Place but Different
Nobleman, Perry
1995
Sandry's Book
(Circle of Magic)
Pierce, Tamora
1997
School of Wizardry
(Corcle of Magic)
Doyle, Debra
McDonald, James D.
2000
Sea of Trolls
Farmer, Nancy
2004
Sign of the Qin
(Outlanders of Moonshadow Marsh)
Bass, L.G.
2004
Singer of all Songs
Constable, Kate
2004
Silverwing
Oppel, Kenneth
1997
Wee Free Man
Pratchett, Terry
2003
Wise Child
Furlong, Monica
1987
The Wizard Test
Bell, Hilari
2005
Year of the Griffin
Jones, Diana
2000
A New Harry Potter Book!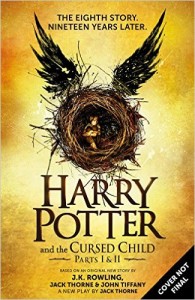 And that's not even all! On July 31st 2016, a new Book in the Harry Potter series is going to be released! Together with Jack Thorne and John Tiffany, J.K. Rowling revisited Harry Potter and his friends and family. The first Harry Potter story to be presented on stage is set nineteen years after the end of the seventh book (not the after the epilogue, mind you).
Accompany Harry while he faces a lot different struggles working for the Ministry of Magic while his son Albus is struggling with the family legacy that is slowly wearing him down.
Pre-order here: Amazon.com
And if you haven'r read them already, check out books mentioned and playing a more or less big role in Harry Potter itself: The Tales of Beedle the Bard, Quidditch Through the Ages and Fantastic Beasts and Where to Find Them!