Guide To Different Types Of College Degrees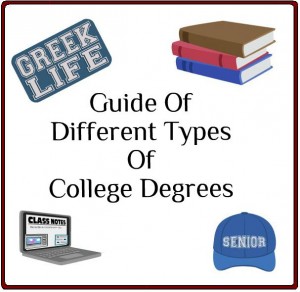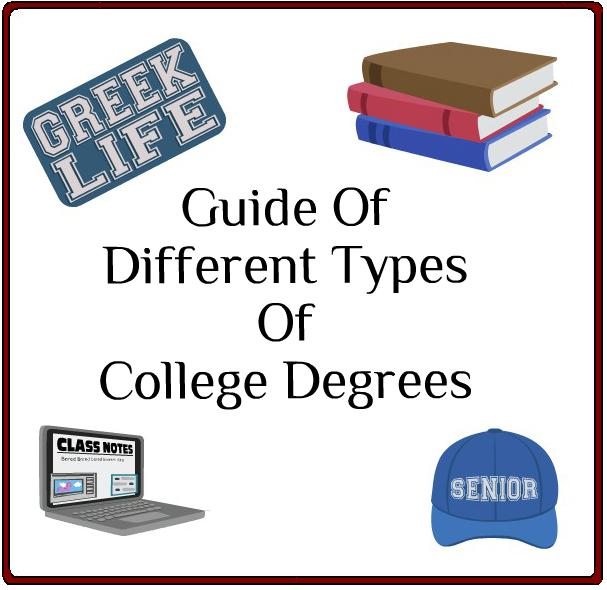 Are you or someone you know thinking of going to college and you're wondering what kind of degrees are available and how long does each take? Here is a very helpful guide to the different types of College degrees that you can choose from and everything you need to know about each one.
A Huge Step Forward
Going off to College is a big step for most people. This is not only due to the fact that most will end up leaving their home to live in a College campus. It's also because it will make most people begin to decide what steps to take towards their future. This is as far as an education is concerned and your career choice as well. The degree most people end up choosing largely depends on the career they want to follow, their intellectual fulfillment and how long they want to go to college for. Online Spellcheck understands how difficult and confusing it can be when deciding which direction to take; especially if you do not know all of your options. There are four different types of college degrees. These Are an Associate's degree, bachelor's degree, master's degree and a doctor of philosophy.
Off to college? Then you must read these Great Tips For College Freshmen To Succeed
Here are the various different types of college degrees available out there for you.
Associate Degree –
Requiring only two years or 60 hours of coursework, an associate degree is an undergraduate academic degree. While it is considered to be greater on an educational level of that of a High School diploma or GED, it is also thought of as less than a bachelor's degree. Some students who acquire an associate degree end up transferring to a 4 year program in order to get their bachelor's degree. However, those that want to go straight to work after graduating usually end up getting the associate degrees. Some 4 year colleges, community colleges and career colleges have these degrees available.
Bachelor's (or Baccalaureate) Degree –
A Bachelor's degree, is also known as a Baccalaureate. The latter coming from the Modern Latin word baccalaureatus. The bachelor's degree requires each student to complete a four or five year college program.
The B.A. (Bachelor of Arts) – are regarded as some of the widest since they primary focal point is arts. However, students are required to earn part of some general education classes.
The B.S. (Bachelor of Science) – focuses on physics, business, accounting, engineering and or any of the sciences.
There are also B.F.A. (Bachelor of Fine Arts) B.B.A. (Bachelor of Business Administration) and B.Arch. (Bachelor of Architecture).
While most students wind up earning a Bachelor of Arts degree (B.A) others end up getting a Bachelor of Science degree (B.S.) The other kind of bachelor's degrees are Bachelor of fine arts or a bachelor of Architecture degree.
Master's Degrees –
Students who chose a master's degree receive an academic degree for demonstrating a mastery or high-order synopsis of an area of professional practice or unique field of study.
M.A. (Master of Arts) or M.F.A. (Master of Fine Arts) – Communication, social science, music and education are some of the graduate studies this degree covers.
M.S. (Master of Science) – Social science professions, health and an ample range of science are earned by obtaining this degree. While the focal point of this degree is on research, some classes can be a combination of class-based courses and research-based courses.
M.Res. (Master of Research) – Anyone who is interested in pursuing a career in research or a PhD should consider a MRes since it can help immensely. The M.Res degree focuses on training students on how to actually carry out research.
M.Phil. (Master of Philosophy) – Although this is a research-only degree, it is also a predecessor to a PhD.
LL.M. (Master of Laws) – Since it only requires 1 year as a full time course, this degree is one of the shortest. However, it takes 2 to 4 years as a part time course. Still, LLM offer the student a chance to practice exclusively on becoming a professional law degree. This is because they offer you the skills required to become an attorney.
M.B.A. (Master of Business Administration) – The M.B.A. degrees are considered one of the most intensive and demanding. They primarily focus on preparing students to become future acknowledged business leaders. The M.B.A. degrees are intended for management professionals with some experience.
Doctorate Degrees –
A Doctorate degree comes from the Latin word 'docere' which means "to teach". The doctor's degree also comes from the Latin word 'doctor' which means "teacher". These academic degrees allow the awarded recipient to qualify as a teacher of the university level of whichever field the degree is in. Or they can work in a specific profession as well.
PhD (Doctor of Philosophy) – Often awarded to distinguish peer-reviewed published academic research, the PhD degrees are research-based doctorates.
M.D. (Doctor of Medicine) – Regarded as the most advanced degree for medical students, the M.D. degree has to be completed in order for anyone to professionally practice in the field of medicine. Students of M.D. degrees usually choose a specialty area.
Ed.D. (Doctor of Education) – Considered the highest level degree when it comes to education regarding the field of educating; the Ed.D. degree is often reserved for people who work in academic, research or administrative positions pertaining to the educational field.
J.D. (Juris Doctor) – Lawyers who received this degree can boast of obtaining the most advanced one for their profession. Still, a thesis is not generally requisite in the J.D. Degree program.
Check out this article on Writing an Essay For College Application
When it comes to education, the higher you go up in the ladder of the degrees, the greater your chances for success in the professional world become. This also means an opportunity to earn more money as well. No matter what degree you decide to choose, knowing what types of degrees are and what they bring to the table can help make your choice easier.