Christmas Letter Ideas
We previously talked about how to write a good holiday letter, and gave you some tips on making your annual holiday letter as good as possible.  However, those tips were focused on HOW to write a good Christmas letter.  Now we're going to focus on Christmas letter ideas to help you with WHAT to write.
The Important Details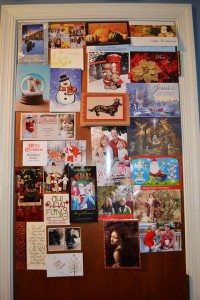 One of the main purposes of annual holiday letters is to catch people up on your life.  This makes it ultra important to mention births and deaths, marriages, new babies and major life changes for yourself or anyone in your immediate family.  Remember, some of the people who will be reading your letter haven't seen you for years, maybe decades, so it's also a good idea to include names and ages of your children.  People love to see pictures if you have them too.
If you have children, people will want to know what they've been up to in the last year.  If they are younger children, let people know about their school activities and hobbies.  This can also include some of the cute things they've done and what milestones they've hit over the last year.  If they are grown, update your friends on your children's careers and families.
Other Christmas Letter Ideas
The important details are usually pretty easy for people to write about, but what do you include after that?  After all, in many cases, those details can be accomplished in just a few paragraphs.  Here are a few other Christmas letter ideas to help you fill out the rest of your letter.
Your Favorites
Share some of your favorite things from the year. If you are an avid book reader, many of your friends would probably be interested in knowing your thoughts on the best books you've read.  Chances are that if you are a book worm, several of the people on your mailing list are the same.
The same idea applies to movies and television shows.  If you saw all of the people on your list in person, you would probably talk about your favorites, right?
Are you a foodie?  Share some of the best meals of the year, either ones you cooked yourself, or even experienced at a fancy new restaurant.
Hobbies
Talking about your hobbies and what you do for fun are other popular Christmas letter ideas.  Your Christmas letter isn't just about telling people what you've accomplished over the year, they want to hear about YOU.  What you do for fun is a part of that.  Talk about the softball league you play in, a new group at church that you joined or how much you enjoy taking your dog to the local dog park.
When you share these activities, make sure you're not just bragging. Make it a point to share something about those activities that your readers would find interesting.
Unusual Job or Location
If you live in an unusual location, have a job that most people would consider a little different or did something during the year that your friends would be interested in, those topics make great Christmas letter ideas.
These types of things are especially interesting in a Christmas letter if you can share experiences that will be a surprise to your friends.  Are you an indoor person who spent a couple weekends landscaping your backyard?  Tell them.
Favorite Memories
The holiday season is about spending time with your friends and family and memories about those past times make great Christmas letter ideas.  When you are actually together, chances are that you spend time reminiscing about some of the best or most memorable times of the past.  Inject some of this into your Christmas letter.
---
Those are some Christmas letter ideas that can really improve the quality of your holiday letter. However, knowing what you're going to write about, and writing the letter is only the beginning. Remember the importance of running your letter through a spell check program.  If you send out something to dozens of people with a big typo on the first line, you will be embarrassed, and you will NEVER hear the end of it!