How to Write a Good Holiday Letter
It's that time of year when we've all begun to start thinking about the holidays. That may mean travel arrangements, scheduling vacation time or talking to family and friends about who will be hosting the end of the year get-togethers. For many people, this time of year also produces anxiety because they know it's time to sit down and write the yearly holiday letter to send along with the cards.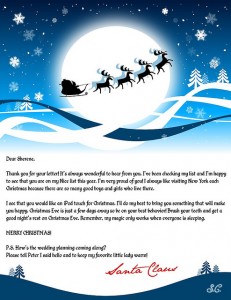 It can be a difficult in the beginning, but if you're having problems, here are a few tips about getting started.  Once you've passed the writers block, the remainder of this article will help you with tips on what to do, and what not to do so your holiday letter is the best it can possibly be.
Be Happy, Or At Least Start Happy
Tone is very important in one of these letters and it starts with the first line. While we all agree that we "can't believe how quickly the year has flown by", it's not a great way to start the year because it is a more negative tone.
Instead, start out your letter talking about the blessing of having the opportunity to connect with your friends and family. Or talk about how happy and busy your family has been over the last year. Set the tone right from the beginning of your letter so your readers are in the frame of mind for the rest of it.
Keep it Shorter Than You Want
It can be really tempting to sit down and write a detailed account of your past year for your holiday letter. That way everyone can really get updated on your life. However, you should avoid this. The first reason is that most people don't write well enough to hold anyone's attention for that long, regardless of what they're writing about!
But the real reason you should skip on most of the details in your holiday letter is that people don't want the details, they just want the highlights. The reality is that if you include too many details, most people will end up skipping over them. Those who would take the time to actually read a 4-page letter are the ones who probably already know the details anyway!
Be Yourself
Another temptation when preparing your holiday letter is to try and impress people. People try to use bigger words than usual or add too many adjectives in an effort to describe something that is "bigger and better".
The reality is that your friends don't want to read a letter from Ernest Hemingway, they want to hear from you. When you're writing your holiday letter, write the same way you talk. If the tone or words are different than the way they think of you, they'll be distracted, and might even think you hired someone else to write it!
Remember Your Audience
Another great tip when you're writing holiday letters is to remember who you will be sending it to. If you are only sending your holiday letter out to family and close friends, this won't be an issue, but most people use a much larger mailing list. That list will likely include people who may or may not know how old your children are, or the name of your pets.
For example, don't say "Dave is finally a happy Hawkeye." Instead, say something like "our oldest son Dave has finally realized his dream and is a freshman at the University of Iowa."
Don't Embellish
Yes, it is tempting to turn your holiday letter into a brag-a-thon and make everything sound just a little bit bigger and better than it really was. If your letter sounds too good to be true, you will lose the interest of the readers and they are likely to become skeptical that what you're telling them is actually the truth. The other side is that if you embellish and they do believe everything, it's likely to catch up to you in the future.
Spell Check
The final step before you print out your holiday letter and insert it into your cards should be to run it through a good online spell check program.  The last thing you want to have happen is to spend hours on your letter, and then have your friends and family harass you for years because you misspelled holdiay!
Writing your annual holiday letter to get everyone caught up on your life should be fun, not stressful.  Hopefully these tips can help you make it a positive experience, for both the writer… and the reader.