eBook Formats To Publish Your Work In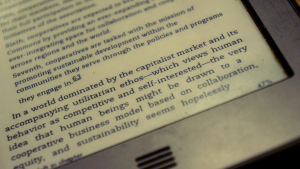 Publishing your own book has never been as easy as nowadays in the age of eBooks and the online distribution of books. We on Online-Spellcheck.com have looked at the topic of eBook writing a couple of times before as well:
However, once the writing is done and you have checked for spelling mistakes, plot holes and other deficiencies, you may face a whole different kind of problem:
In what format should I save my eBook?
To make it easier for you to answer this question, let's have a look at the most popular eBook formats!
EPUB
The EPUB format is an open source format supported by many eBook readers like the Barnes & Noble Nook, Sony Readers, PocketBook, Kobo eReader and many Apple devices. You can even read EPUB files on your computer using, for example, add ons for Firefox or Adobe product.
Thanks to it's reflowable design, EPUB eBooks fit all kinds of dimensions on different devices. They can contain images, hyperlinks and tables. DRM protection is available for EPUB files as well.
AZW
AZW or AZW3 is the eBook format commonly associated with Amazon's Kindle. Even though the files are exclusive to Amazon, you can use them with Apple products or on computers and tablets as well with the according Kindle app.
AZW files are typically DRM protected. The protection is linked to the Kindle's device ID and makes sharing or converting them rather impossible. But unprotected versions can be found and created as well. It is similar to the MOBI format discussed below.
MOBI
The MOBI file was developed by Mobipocket for their eBook reader software. The free software is enabling users to read MOBI eBooks on their smartphones, tablets, computers and PDAs. However, since Mobipocket was purchased by Amazon, the extension has been discontinued and replaced by AZW. Some older eBook readers like the Kobo eReader, PocketBook or ECTACO jetBook support MOBI files as well.
MOBI files can contain images and tables, however the support varies from device to device, changing the format and maybe affecting the readability of the eBook.
PDF
PDF files are popular document files created by Adobe. They can be opened and read using the Adobe Acrobat Reader for computers and smartphones, as well as many other programs and software available for personal computers, tablets or phones. Many of these programs are free of charge. Furthermore, PDFs can be read on almost all known eBook readers.
Similar to the other eBook formats, PDF files can be password protected. Unlike EPUB and AZW files though, the layout of a PDF is fixed, matching an A4 letter, and printer ready. Thus, the format is not optimal to read books on smaller screens since the pages do not scale very well.
Others
FB2
FB2 files have been developed as open standard files. The PocketBook as well as the ECTACO jetBook support FB2 files as well as some software and applications for computers and mobile devices.
FB2 files can be DRM protected as well as containing images and other style and formatting information.
LIT
The LIT eBook file was developed by Microsoft for their eBook reader software and applications for other Windows devices. It has been discontinues together with the distribution of Microsoft's Reader software.
LRF
Sony developed the LRF file format for their Sony eBook readers. Old Sony readers are still able to open LRF files, but the format has been discontinued as well when Sony started using the EPUB format instead.
PRC/PDB
PRC files were developed by Mobipocket (the developers of the MOBI file). These files were exclusive to Palm devices or the Mobipocket app for computers. The Amazon Kindle and some other eBook readers support unprotected PRC or PDB files as well.
PRC and PDB files can contain images, tables and hyperlinks. DRM protected files can only be read on Mobipocket devices and with their software while unprotected files are open to other eBook readers as well.
With these in mind, you should be able to chose the best file for your purpose. Saving your eBook in a format that can be distributed using several markets, publishers, and are compatible with many readers is—of course—a big advantage. Thus, we advice you to save your eBook in the EPUB and AZW format, as well as providing a PDF version.
Also, keep in mind that you can protect your files using DRM. If an eBook file is DRM protected, it can not be opened on a device even if the file format is supported.