289 Words Most Commonly Misspelled In English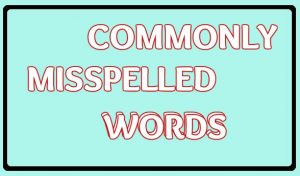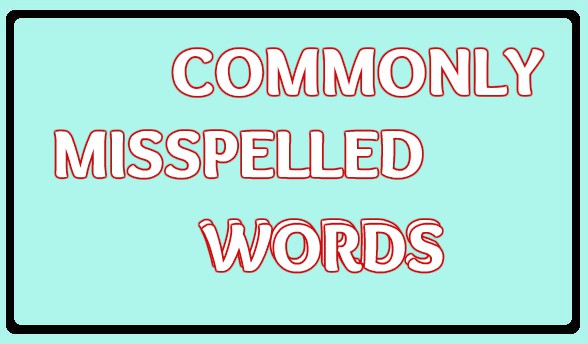 The English language is full of grammar rules and guidelines. To make matters more difficult for people, there also a lot words that we tend to misspell all the time. This list contains 289 of the words most commonly misspelled in the English language.
Spelling correctly or impeccably in English is not an easy thing to master. Writing correctly and proper grammar are an obstacle many students and people all over face. If that wasn't difficult enough, there are also hundreds of words which sound and are spelled the same.
Yet those are not the main culprits when it comes to misspellings. In addition, you also have to contend with the fact that some words that are spelled one way in American dictionaries, are spelled a bit different in the British English spelling. This list below contains most the ones that are. Take a good look at them and study them really hard. Chances are that you may have misspelled a few of them yourself.
Here are a few reasons why you should Stand Up For Autocorrect
A Test Within The List
Before we show you the entire list, there is a test within the list. This is to see whether or not you are one of those which may misspell any of these commonly misspelled words or not.
1.  Which is correct?
A. Reccomend
B. Reccommend
C. Recommend
D. Recomend.
2. Which is correct?
A. Argument
B. Arguement
C. Argumment
D. Argumemt
3. Which is correct?
A. Consencus
B. Consensus
C. Consenssus
D. Concensus
4. Which is correct?
A. Inadvertant
B. Inadvertint
C. Inadvertent
D. Inaadvertent
5. Which is correct?
A. Amauteur
B. Amateur
C. Ammateur
D. Ameteur
============
The Answers to the test above are as follows
1 – C= Recommend
2 – A = Argument
3 – B = Consensus
4 – C = Inadvertent
5 – B – Amateur
If you took the test above and you found at least 1 or more of the words presented some difficulty for you, then don't worry. The truth is that you are not alone in that department. According to statistics, those are some of the most commonly misspelled words in the English dictionary. Below, are 289 words you may have a problem spelling correctly.
absence
accidentally
accommodate
accumulate
achievement
acquaintance
acquire
acquit
acquitted
advice
advise
amateur
among
analysis
analyze
annual
apartment
apparatus
apparent
appearance
arctic
arguing
argument
arithmetic
ascend
atheist
athletic
attendance
balance
battalion
beginning
belief
believe
bellwether
beneficial
benefited
boundaries
Britain
business
calendar
candidate
category
cemetery
changeable
changing
choose
chose
collectible
column
coming
commission
committee
committed
comparative
compelled
conceivable
conferred
conscience
conscientious
conscious
control
controversial
controversy
criticize
daiquiri
deferred
definite
definitely
definition
describe
description
desperate
dictionary
dining
disappearance
disappoint
disastrous
discipline
dissatisfied
dormitory
drunkenness
dumbbell
effect
eighth
eligible
eliminate
embarrass
eminent
encouragement
encouraging
environment
equipped
equipment
especially
exaggerate
excellence
exceed
exhilarate
existence
existent
experience
explanation
familiar
fascinate
February
fiery
foreign
formerly
forty
fourth
frantically
gauge
generally
government
grammar
grandeur
grateful
grievous
harass
height
heroes
hindrance
hierarchy
hoping
humorous
hypocrisy
hypocrite
ignorance
immediate
immediately
incidentally
incredible
independence
indispensable
inevitable
inoculate
intellectual
intelligence
interesting
irresistible
its/it's
jewelry
judgment
knowledge
kernel
laboratory
laid
led
leisure
liaison
library
license
lightning
loneliness
lose
losing
maintenance
maneuver
manufacture
marriage
mathematics
maybe
medieval
memento
millennium
mere
miniature
mischievous
minuscule
misspell
mysterious
necessary
Negroes
neighbor
ninety
noticeable
occasionally
occurred
occurrence
omitted
opinion
opportunity
optimistic
paid
parallel
paralysis
paralyze
particular
pastime
performance
permissible
perseverance
personal
personnel
perspiration
physical
picnicking
playwright
possession
possibility
possible
practically
precede
precedence
preference
preferred
prejudice
preparation
prevalent
principal/principle
privilege
probably
procedure
proceed
profession
professor
prominent
pronunciation
publicly
pursue
Don't forget to read about the Anatomy of Misspellings
questionnaire
quantity
quizzes
recede
receive/receipt
receiving
recommend
reference
referred
referring
relevant
repetition
restaurant
rhyme
rhythm
ridiculous
sacrifice
sacrilegious
salary
schedule
seize
sense
separate
separation
sergeant
severely
shining
similar
sincerely
sophomore
specifically
specimen
statue
studying
succeed
succession
supersede
surprise
their/they're/there
technique
temperamental
tendency
tragedy
transferring
threshold
tries
truly
twelfth
tyranny
unanimous
undoubtedly
unnecessary
until
usually
vacuum
village
villain
weather
weird
whether/weather
woman
women
writing