Persuasive vs. Argumentative Writing Differences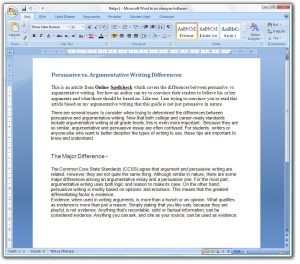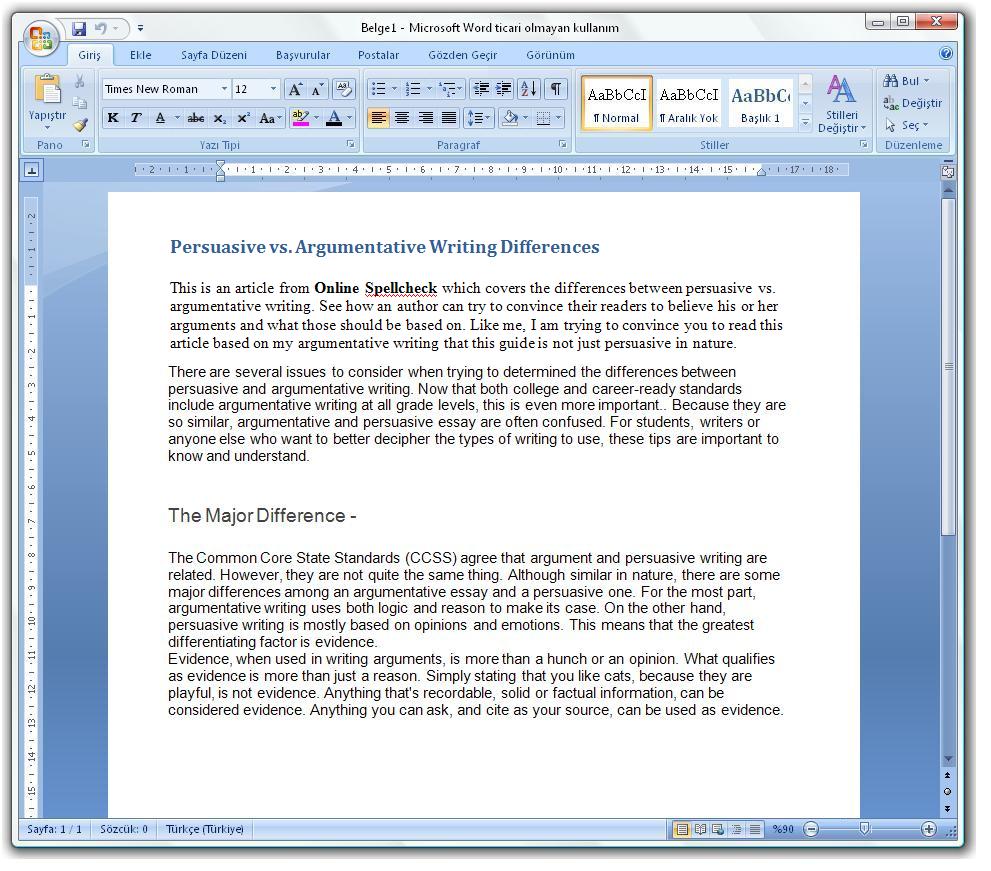 There are several issues to consider when trying to determined the differences between persuasive and argumentative writing. Now that both college and career-ready standards include argumentative writing at all grade levels, this is even more important. Because they are so similar, argumentative and persuasive essays are often confused. For students, writers or anyone else who want to better decipher the types of writing to use, these tips are important to know and understand.
The Major Difference –
The Common Core State Standards (CCSS) agree that argument and persuasive writing are related. However, they are not quite the same thing. Although similar in nature, there are some major differences among an argumentative essay and a persuasive one. For the most part, argumentative writing uses both logic and reason to make its case. On the other hand, persuasive writing is mostly based on opinions and emotions. This means that the greatest differentiating factor is evidence.
Evidence, when used in writing arguments, is more than a hunch or an opinion. What qualifies as evidence is more than just a reason. Simply stating that you like cats, because they are playful, is not evidence. Anything that's recordable, solid or factual information, can be considered evidence. Anything you can ask, and cite as your source, can be used as evidence.
If you enjoy writing then take a look at these 10 Legitimate And Free Writing Contests
Persuasive Writing –
According to history, persuasive writing is based on the principles developed by the early Greek Rhetoricians. Some examples of these great oral convincing orators are Socrates and Aristotle. Back then, all speeches were oral, not written as they are mostly done today.
Any writing that attempts to convince the readers to agree with the author's ideas or opinions, can be considered persuasive writing. The reason for this is because a writer can use his or her own opinions, ideas or emotions, to make their point. Their main objective is to convince the reader to agree with the writer's opinion. In any event, an argumentative writer needs to gather evidence, research and facts for making his or her point. On the other hand, a great persuasive writer can cleverly write his or her content without knowing much. One of the reasons for this is because a persuasive writer appeals to readers emotions as opposed to their intellectual minds. Many people believe that this is why writers who are really passionate about a subject or matter they truly believe in, can be more convincing.
You may also want to read about How To Choose Between Formal Or Informal Writing Styles
Argumentative Writing –
Unlike persuasive writing which appeals to a reader's emotions, argumentative writing requires the author to investigate a topic. The author will need to generate, collect and evaluate the evidence he or she will use. Once that is done, they can then establish their position on the topic or issues in a concise and accurate manner. When trying to prove or defend a point, a good argumentative writer needs to gather all the facts and figures they may need to do so. They will also need to do a thorough research to help them debate their belief or opinion to the reader with facts. Argumentative essays are often times referred to as debates on paper. By using evidence, they can attempt to discredit and eliminate the opinion or position of the opposing view. A great argumentative essay or writing, will contain substantiated claims based on sufficient and relevant evidence or information. The writing warrants statements, stats and/or facts about how evidence supports each claim. Lastly, there is also the counterclaims and rebuttals. These need to respond and refute (even if trying) to discredit opposing arguments and views.