7 Tools To Make You A Better Writer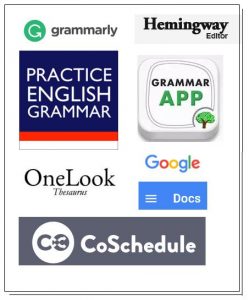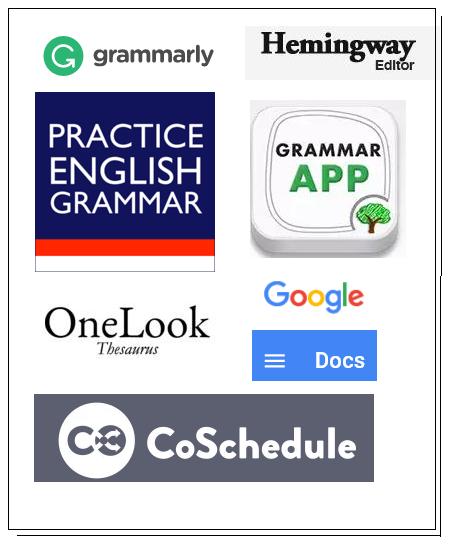 If you love to write and want to enhance your writing skills, there are many tools available out there which can instantly make you a better writer. One of the best things about being a writer is that you can continue to improve your writing and work, as time goes by. Numerous writers will write a draft and as they take another look, find a way to make the final results even better. No matter whether you're a student or a someone who makes their living by writing, these tools to make you a better writer can help immensely.
Grammarly –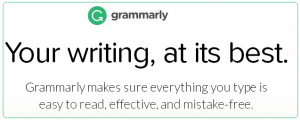 One of the most complex and grammar rules filled languages is the English language. Because of that, many people tend make mistakes in their writing which are often unknown to them. This is where the Grammarly tool comes in handy. This wonderful writing tool, will efficiently catch many errors in your text, you may not otherwise be aware that you're making. Furthermore, Grammarly dissects and analyzes your writing patterns, in order to assist you in improving your writing. Issues such as overusing words and using a passive voice, are identified. There is a free version you can use for your browser. You can also download it and use it with your word processing program such as Microsoft Word and Outlook. The paid version will gain you access to even more advanced features and suggestions to help you improve your writing style.
 Are you serious about writing? Then you should check out these 10 Legitimate And Free Writing Contests
Practice English Grammar –

Available for both Android and iOS for free, the Practice English Grammar app is a great tool for those looking to improve their writing skills. This amazing free app is so helpful, that it was a nominee for the the 2014 Best Education App. The app works by using a combination of questions, games, flashcards and articles. If also features specific feedback as well as wide range of grammar topics. While the basic content is free, in-app purchases will gain you access to numerous additional features and lessons. Most of them are about $0.99 each.
Hemingway –

Taking a cue (and name) right out of one of best short story writers in history, the Hemingway app is a must use tool for every writer. Featuring tools which help you become a more clearer, bolder and concise writer, the Hemingway app is an awesome mechanism for writers. Very often, many writers will make the mistake of writing sentences which are far too long for their readers to follow. This app, highlights those mistakes, so you can make your content as easy to read as possible. It breaks up your text so you can make your point faster. Best of all, it features a readability meter which tells you how difficult it is for others to understand what you wrote.
Grammar App –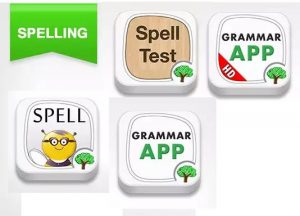 If you want to learn how to become a better communicator via your written text, then the Grammar app is a great place to start. This great tool offers a little bit of everything to help you become a better writer. You can try practice exercises, watch tutorials and even have lots of fun with some cool grammar games. In addition, every aspect of grammar rules and other issues are covered. And there are over 200 learning points for you to improve your skills from. This may explain why the Grammar app is one of the best-selling apps in that genre on the App store. While you can download it for free on Android, it is $0.99 on iOS.
OneLook Reverse Dictionary –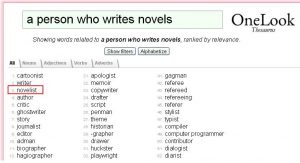 Every writer at some point or another, has experienced the frustration of having a word on their mind to use, but not being able to remember it. Or perhaps you have a concept in mind, but can't quite come up with the appropriate word to use. No matter the scenario, OneLook Reverse Dictionary can help. All you do is simply type in the phrase or thought, and the reverse dictionary tool will give you a long list of phrases or words related to it. You will not only find many helpful results, but also perhaps, even better alternatives than what you had in mind.
CoSchedule's Headline Analyzer –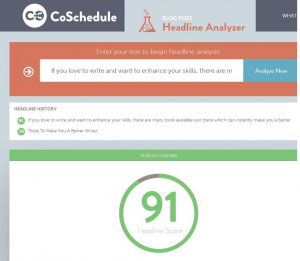 For writers who are serious about catching their intended audience's attention, nothing is more important than having a great headline. The truth is that no matter how great an article or material you have written is, if you don't have a great headline, it may skipped or ignored by people. This is where the CoSchedule's Headline Analyzer comes in to help. By analyzing both your text and headline, it gives you an overall score of how good your headline really is. For those that are concerned about SEO factors, this is very important. It can even let you know if the sentiment of your headline is positive or negative.
You may also want to read how Word Games Can Improve Your Writing
Google Docs –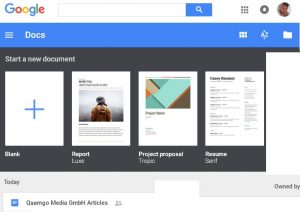 While Google Docs may not have all the auto correction tools of Microsoft Word, it does offer many useful features for writers. Aside from automatically and instantly auto saving your content, Google Docs lets you examine each word or sentences. By simply right clicking on the text or word you want to examine, you can find the definition or do a websearch on them right from the doc. Google Docs really shines if you are working with several people on a project and you do not want to have to track all of the different versions. The collaboration tool allows everyone to come together on a single document.