Tips for your Job Interview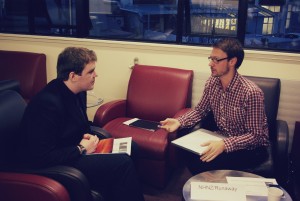 In several blog posts, we have already talked about how you can improve your job application in many ways by following simple tips and using a spellchecking service. Those tips included:
These tips can be vital for you to go to the next step: the job interview. If you got this far, we have some more valuable tips for you!
Most Frequently Asked Job Interview Questions
Firs, lets have a look at questions you are often asked during a job interview, and how to answer them in the best way.
1. Tell me about yourself
Keep your answer work related. Unless the panel asks you, do not go into too much detail.
2. What do you know about our company?
Research! Do your homework and browse the company's website or articles you find about them in newspapers, magazines or the web. If you know someone from the company personally, try to get information from them as well.
3. Why did you leave your last job?
Keep your answer positive. Convey that you were looking for a new challenge, or to develop further than was possible in your last job. even if it's true, never enunciate that the behavior of your old boss (or colleagues) initiated the change.
4. Why have you been unemployed for so long?
Don't try to find excuses. Rather, point out all the productive things you have done in the time you weren't employed. Courses, freelancing activities, unpaid work and internships, voluntary work, and language study travel are positive actions taken during an unemployed time.
5. What are your strengths?
This is your time to shine! Put out everything that you regard as being one of your strength, but be also prepared to give valid and comprehensible references on how you have utilized these strengths.
6. What are your weaknesses?
Don't go like a bull at the gate. Your future bosses do not have to know about every bad personality trait you have. Instead, use minor weaknesses that are more like disguised strengths.
7. What are your strongest points according to your former supervisor?
Don't ramble and blurt out non-specific phrases. This is where you have to state specific situations and experiences from your former workplace. Also, this is the right time to show off letters of work recommendations and praise.
8. Why should we hire you?
Make sure that the panel knows that you need the job as much as the company needs you. Use a balanced and calm tone, and do not compare yourself to other participants or applicants.
9. How long do you expect to work with us if we hire you?
Don't give a specific date or period of time. This question often pops up with temporary job offers. An answer like "for as long as both parties feel satisfactory" is very well received and also shows your motivation.
10. Don't you think you are overqualified for this position?
Don't say yes! Aim to an answer that points out that you feel confident to fill in the position and that you think you can gain knowledge and experience as well as develop further. Make the panel think that you are the right person for this job.
11. Are you a Team Player?
Here, a firm "yes" is needed in any case. Be prepared to talk about situations in which you have successfully worked and finished a project in a team and how you dealt with conflicts and problems within the team.
12. What position do you prefer in a team?
Don't go for the leading position right away, but don't put yourself down as a follower either. State that you are flexible and, at best, have experience and good knowledge in both positions, and that you don't mind either.
13. How do you work under pressure?
This is a tricky question, so answer it carefully. Point out instances in which you thrived under pressure, and assure that pressure within the limit motivates you and does not effect your work negatively.
14. How do you handle criticism?
Criticism is the first step to improvement! Point out that you are aware of that concept and that you do not take criticism personally but rather as suggestions and enhancements. Make sure that the panel knows that you understand the necessity of such hard treatment at times and refer to some experiences in which you adapted to constructive criticism for the benefit of all involved.
15. What motivates you to give your best for your work?
Do not, under any circumstances, refer to the money or salary here! Rather, point out positive things like work environment, discipline, the atmosphere in the team, and such.
16. Are you willing to put the company's interests over your own?
Another firm yes is needed here. The penal wants to know how far you are willing to go to provide your best work possible for the company. Don't give them any doubts.
17. Where do you see yourself in five years from now?
Refer to future goals that align with the needs of the position, job offer, and company, and how you strive to learn and grow with that.
18. What qualities do you look for in a boss?
Don't go into too much detail here. Don't go into detail at all. Traits like understanding, encouraging, fair, and competent are enough.
19. If you were to hire someone for this position, what would you look for?
Answer by giving a mixture of what was stated in the job description alongside with your skill set. Make sure that your answers are justified though, and don't point into your own direction too much.
20. What expectations do you have concerning this job/our company?
Speak confident and as if you are inducted to the company already. State that you like to have some freedom instead of too narrow boundaries. Also, state that you would like to see tasks and requirements lined out and clear.
21. What do you do in your free time/are your interest outside of work?
Describe the things you enjoy doing in your free time, all kinds of activities and hobbies. Yet, make sure to link them to positive aspects you gain from your hobbies or past time activities.
22. Do you have any questions?
This is a homework task again. Make sure to make a list with questions you would like to have answered but that also display your deeper knowledge and interest in the job and company.
You have no idea what kind of questions those could be? Stay tuned, we'll have another blog entry on this!